Gift Albums are perfect awards for Employees:
They can choose their own gift from a large selection of popular life-style products. Redeem using the catalog, or redeem online for many more items.
Employees must be 100% satisfied with their merchandise order, or it will be replaced or exchanged without question.
For more info, see the
Overview of McDonald's Restaurant's Employee Recognition Program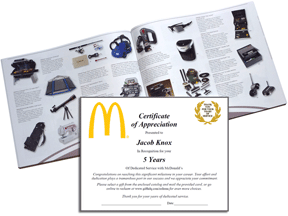 Presentation Packets
are "ready -to-go"
with your selected letter.
see all optional letters
Select-Your-Gift
is a leading provider of Employee Recognition programs, offered at our unbeatable prices
to fit every
McDonald's Restaurant's award budget.
Our Special Discounted Pricing and customized McDonald's options will stretch your budget, allowing you to give your employees higher valued gifts and awards, in great looking presentations.